Eligibility
We Support You
Career Option
Animation Prime
Career Course
Animation prime is a comprehensive course that teaches fundamentals and techniques of animation using the latest softwares and tools provided.
If you are interested in a making a well paying career in animation industry, visit the largest arena institute at sector 9, Panchkula. Meet your Career Advisor there and get complete information on the course, it's benefits and placements.
Animation is not only about making cartoons. With Animation, we create an illusion of movement. Pictures and images are manipulated in a way that they appear to be moving.
The Industry
Today, Animation has a huge market. Animators are required in every field. Animation is used in Education, Entertainment, Advertisement, Marketing, In Scientific Visualization, Creative Fields, Gaming, Simulations,Medical Field, Retail, Architecture and Engineering, Manufacturing, Film production etc..
"The Animation sector in India will grow to become Rs.23.2 billion industry by 2020"
Benefits
Learning about the History of Visual Effects in Films.
Understanding & Applications of the Fundamentals of Design.
Laddered learning from basic to advanced level
Projects at regular intervals
Specialisation and portfolio creation in the area of interest
Exposure to industry interaction and workshops
Placement assistance
Access to Onlinevarsity, our exclusive e-learning platform
Access to Creosouls, a platform to showcase your work
Instant student Loan Facility to fund the studies
Animation Prime Course Structure
Semester 1
DESIGN & VISUALISATION
Concepts of Graphics & Illustrations
Typography Design
Digital Illustrations
Concepts of Cinematography & Photography
Concepts of 2D Digital Animation
Art of Storytelling & Script Writing
Anatomy Study
Audio-Video Editing
Storyboarding & Animatics
Application of 2D Animation Principles
Design Portfolio
Semester 2
3D ANIMATION
Clay Modeling & Animation
3D Basics - Modeling to Animation
Digital Modeling with 3ds Max
Lighting & Texturing Models with 3ds Max
3D Motion Graphics with 3ds max
Rendering with 3ds max Vray
Digital Compositing
3D Animation Portfolio
Semester 3
ADVANCED 3D ANIMATION
3D Basics - Modeling to Animation
Digital Modeling with Maya
Digital Sculpting
Texturing 3D Models with Maya
Lighting & Rendering Models with Maya
Rigging 3D Models with Maya
3D Character Animation
Fx, Dynamics & Simulation
Matchmoving & Camera Tracking
Crowd Simulation
Working with Arnold Renderer
Specialisation & Digital Portfolio Development (Choose 1 elective)
The latest & Most Modern way of teaching & training.
Students at Arena Panchkula participate in various events, Industry Visits, Competitions & Workshops.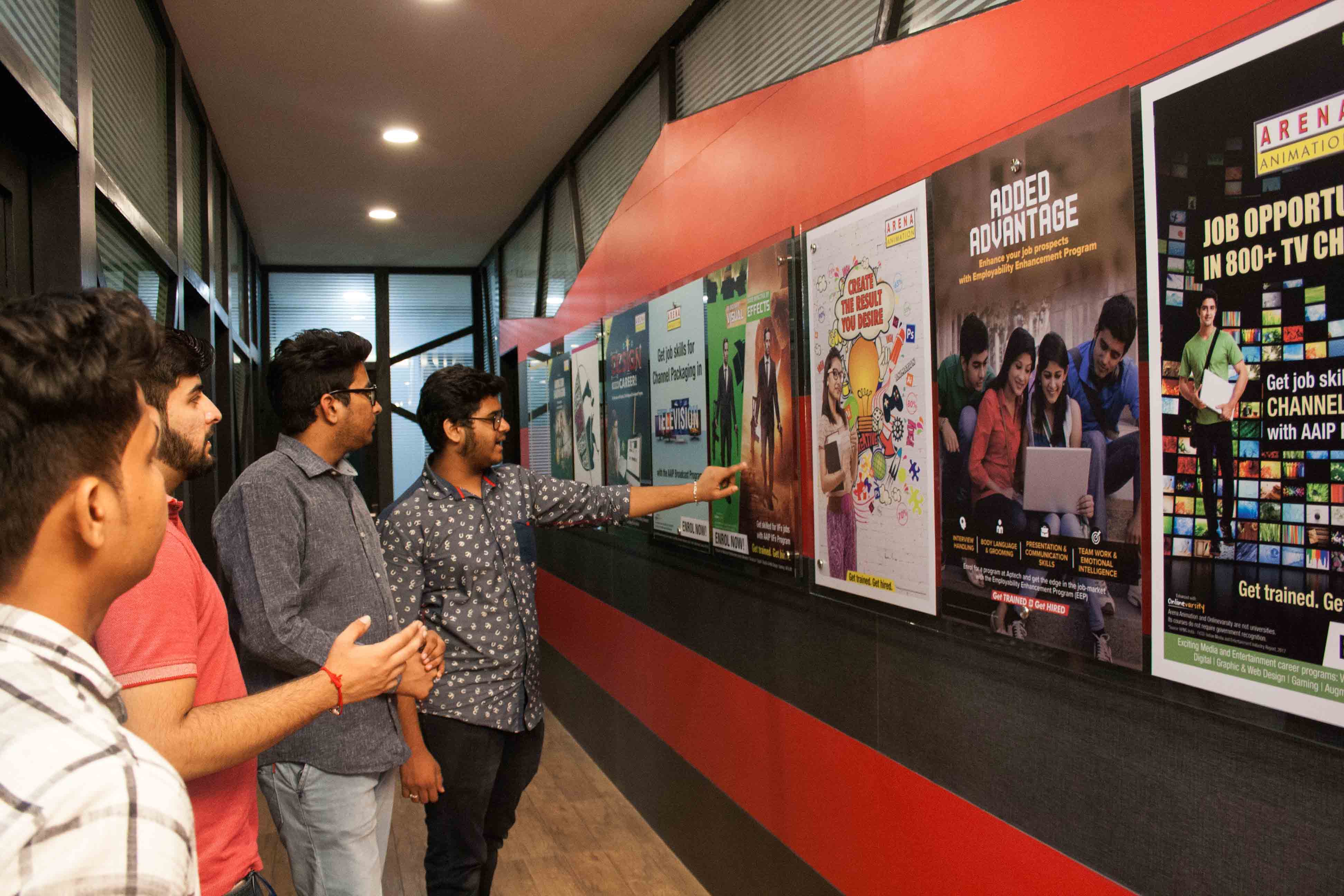 Spacious Labs & Work Stations keep the students motivated & satisfied.
Individual attention, Certified Faculty & Lab assistance during practice hours and much more!