Eligibility
We Support You
Career Option
VFX Prime ( Visual Effects)
Career Course
Arena Animation Panchkula prepares you to become all-round VFX specialist. We educate you using the latest VFX technology and tools. Our students are exposed to the latest techniques and methods used to achieve high quality visual effects.
The students are taught and trained the Tools and softwares keeping in mind how they are used in a professional production environment. Our students enjoy their learning time with the certified facutly at the institute. Weekly assignments and exercises help students build their portfolio which helps them get placed after the completion of their course.
Come and be a part of this creative environment of at Arena Animation Panchkula. Visit today to understand the benefits of taking up the course.
The Industry
The Indian VFX Industry grew from INR 2,320 Crore in 2016 to reach INR 3,130 Crore in 2017. The Industry is expected to grow nearly double to INR 6,350 Crore by 2020. The Study of Visual effects is a balance of both art and technology. You learn the art of VFX Design as well as the latest VFX techniques using the state-of-the-art 3D &VFX software used in the industry.
VFX of Top Hollywood Blockbuster Films have been done in India such as Blade Runner 2049, The Fast & the Furious 8, Pirates of the Caribbean, Dead men Tell No Tales, The Jungle Book and many more. BAHUBALI 2 was a game changer for Bollywood VFX. After the box office success of the blockbuster Bahubali 2, there is a spike in VFX Budgets and jobs in Bollywood as well as Regional films.
Benefits
Job-oriented, industry centric curriculum
Hands-on practical training using latest tools and software.
Laddered learning from basic to advanced level
Projects at regular intervals
Specialisation and portfolio creation in the area of interest
Exposure to industry interaction and workshops
Placement assistance
Access to Onlinevarsity, our exclusive e-learning platform
Access to Creosouls, a platform to showcase your work
Instant student Loan Facility to fund the studies
VFX Prime Course
Semester 1
DESIGN & VISUALIZATION
Concepts of Graphics & Illustrations
Typography Design
Digital Illustrations
Concepts of Cinematography & Photography
Concepts of 2D Digital Animation
Art of Storytelling & Script Writing
Anatomy Study
Character Design
Digital Painting
Audio-Video Editing
Storyboarding & Animatics
Application of 2D Animation Principles
Design Portfolio
Semester 2
3D Basics - Modeling to Animation
Digital Modeling with Maya
Digital Sculpting
Texturing 3D Models with Maya
Lighting and Rendering Models with Maya
Rigging 3D Models with Maya
3D Character Animation
Fx, Dynamics and Simulation
Matchmoving and Camera Tracking
Crowd Simulation
Working with Arnold Renderer
Digital Compositing
3D Animation Portfolio
Semester 3
VFX Filmmaking
Pre-visualization
Introduction to Nuke
Rotoscopy Using Silhoutte
Wire removal
Colour Correction
Green/ Blue Screen
Matchmoving & Camera Tracking
Matte Painting
Specialisation & Digital Portfolio Development
The latest & Most Modern way of teaching & training.
Students at Arena Panchkula participate in various events, Industry Visits, Competitions & Workshops.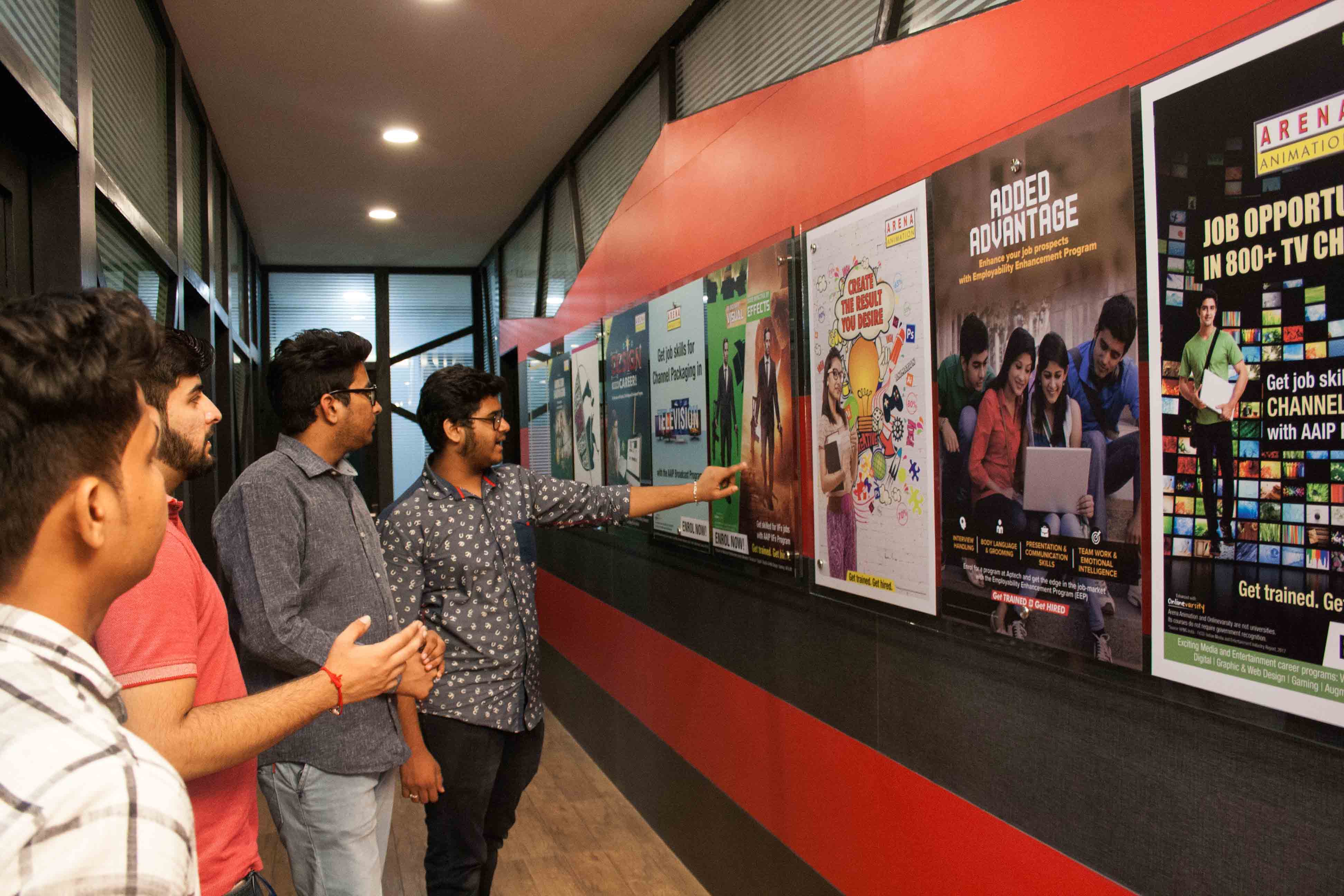 Spacious Labs & Work Stations keep the students motivated & satisfied.
Individual attention, Certified Faculty & Lab assistance during practice hours and much more!