Eligibility
We Support You
Career Option
BROADCAST Prime
Career Course
Arena Animation Panchkula prepares you for the broadcasting industry. The Industry offers some of the most entertaining and fulfilling careers in the world today. We trains our students in all aspects of channel packaging and makes you a job-ready professional.
The course focuses on the design aspect of digital communication for films, TV and the digital media industry. You will learn graphic animation, live-footages, music, sound, electronic and interactive media, and unconventional media tools to create engaging motion visuals for short-form visual communications, entertainment, edutainment, commercials, broadcast and corporate communications.
Along with the certification, The Students create a portfolio during their course that helps them showcase their talent to perspective employers.
Come and be a part of this creative environment of at Arena Animation Panchkula. Visit the institute today to understand the benefits of taking up the course.
Benefits
Job-oriented, industry centric curriculum
Hands-on practical training using latest tools and software.
Laddered learning from basic to advanced level
Projects at regular intervals
Specialisation and portfolio creation in the area of interest
Exposure to industry interaction and workshops
Placement assistance
Access to Onlinevarsity, our exclusive e-learning platform
Access to Creosouls, a platform to showcase your work
Instant student Loan Facility to fund the studies
Broadcast Course Coverage
Term 1
DESIGN & VISUALIZATION
Concepts of Graphics & Illustrations
Typography Design
Digital Illustrations
Concepts of Cinematography & Photography
Concepts of 2D Digital Animation
Art of Storytelling & Script Writing
Anatomy Study
Character Design
Digital Painting
Audio-Video Editing
Storyboarding & Animatics
Application of 2D Animation Principles
Design Portfolio
Term 2
Broadcast Design
Digital Marketing & Media Concepts
3D Basics - Modeling to Animation
Motion Graphics in 3ds Max
Rendering with 3ds Max Vray
Broadcast Design using Cinema 4D
Visual Effects & Compositing
Advanced Post Production Techniques
Broadcast Media
Broadcast Design Portfolio
The latest & Most Modern way of teaching & training.
Students at Arena Panchkula participate in various events, Industry Visits, Competitions & Workshops.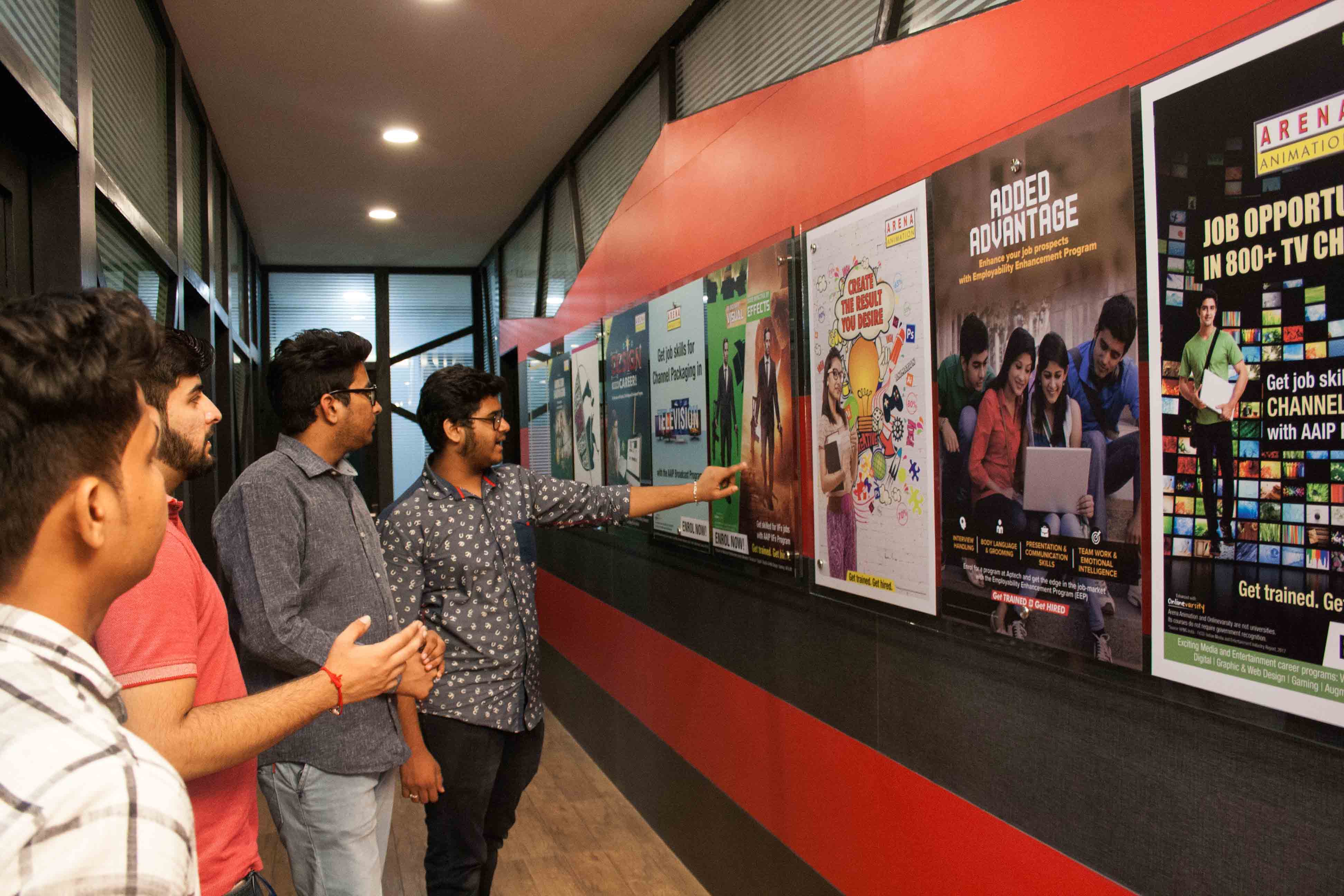 Spacious Labs & Work Stations keep the students motivated & satisfied.
Individual attention, Certified Faculty & Lab assistance during practice hours and much more!